It is our intention to ensure that each client gets a personal service, and each of our staff is dedicated to helping our clients.
Vets
Chris Saunders BVSc MRCVS
Chris qualified from Bristol University in July 1999 with the Harold Pearson surgery award and started veterinary life in a mixed practice in Surrey, which consisted of consulting in the mornings followed by equine visits in the afternoon. Chris set up Sound Equine in August 2004. His main interests are lameness and performance with a special bias towards polo ponies. Chris previously gave a series of lectures on topics which included neurology, lameness evaluation, ultrasonography and the diagnosis of soft tissue back disease. He is absolutely committed to providing the best possible care to his clients and is always available to speak to clients.
Sam Williams MA VetMB MRCVS
Sam joined us in April 2014 having graduated from Cambridge University in 2002. Initially she took an 'old-fashioned' mixed practice job in Devon covering all aspects and species of veterinary work. Since 2004 Sam has specialised in first opinion equine practice. Her professional interests lie with poor performance cases in competition horses, in particular lameness and wounds. Away from work Sam is a keen rider having evented up to Novice level. She played polo at university but the challenges of eventing have always been her preference. Sam is rarely seen out and about without her trusty terrier companion Tatti and is a keen skier when not with horses or dogs.
Rebecca Hanbidge MVB MRCVS
Rebecca joined us in November 2014 as an ambulatory assistant. Graduating from UCD, Dublin with first class honours, she went on to complete a 14 month internship in a busy equine hospital in Devon. She has also completed externships in prestigious equine hospitals including Rood and Riddle, Kentucky, Liphook Equine Hospital and O' Gorman's Slater and Main, Newbury. With a keen interest to become as knowledgeable as possible within the equine veterinary industry, she started a post-graduate degree in Advance Equine Practice with the University of Liverpool in 2015. Outside of work Rebecca enjoys riding, walking, travelling and of course spending time with Copper, her Hungarian Vizsla.
Sophie Mosseri DipECEIM MRCVS
Sophie graduated from the Veterinary School of Toulouse, France in 1996 before completing an internship in Equine Clinical Science at the University of Montreal. She first worked in a referral center in Versailles, primarily taking care of sport horses, and honing her skills in ultrasound scanning, in which she maintains a strong interest. Sophie also has special interests in neurology, cardiology, ophthalmology and respiratory problems, training as a specialist in equine internal medicine at several referral centers in the UK and USA, mainly at the University of Liverpool. Sophie joined Sound Equine in the winter of 2013, and achieved her Diploma of European Specialist in Equine Internal Medicine in 2014. Outside of work, Sophie loves playing tennis, skiing and trekking, and escapes as often as she can to the French Alps.
Veterinary Nurses
Lucy Davis
Lucy previously worked in an Equine Hospital and with heavy horses giving
her lots of experience and knowledge to help our Vets provide the best care
possible to your horses and ponies. Lucy has a rescue dog called Ben who
comes to the practice. Lucy also has Pippin, a cheeky spotted 8yr old mini
shetland, and Jack, a Clydesdale cross, who she likes to hack and take to
local shows on the weekend as well taking part in the New Year's Day Parade
in London
Practice manager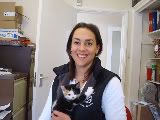 Debbie Lamsley VN

Debbie joined Sound Equine in October 2005 from an equine practice in Wales. She qualified as a veterinary nurse in 1996  in South Africa and worked in a busy equine hospital supervising anaesthetics and monitoring in-patients. Her main passion is skydiving, and competes in the National four way competition each year.
Reception/Admin Staff
Claire Lewis
Claire is our day to day reception manager and is known to most of our clients. She is very friendly and cares deeply about our patients. She organises the vets days and works hard to rearrange calls if an emergency throws the normal day out.