It is our intention to ensure that each client gets a personal service, and each of our staff is dedicated to helping our clients.
Vets
Dietrich Von Schweinitz M.R.C.V.S.
Chris Saunders B.V.Sc., M.R.C.V.S.
Chris qualified from Bristol University in July 1999 with the Harold Pearson surgery award. He started veterinary life in a mixed practice in Surrey. This consisted of consulting in the mornings followed by horse visits. He set up Sound Equine in August 2004. Since then the office has moved around various sites until Chris bought Castlevets with Emma and Ian in August 2008. The office is now located at the clinic, Greyfriars vineyard, The Hogs Back, Puttenham. Chris's main interests are lameness and performance with a special bias towards polo ponies. He has recently been asked to perform a series of lectures on topics which include neurology, lameness evaluation, ultrasonography and the diagnosis of soft tissue back disease. He is absolutely committed to providing the best possible care to his clients and is always available to speak to clients.
Rebecca Hamilton Vet M.B., M.R.C.V.S.
Qualified from Cambridge University in 2011.
UPDATING
Veterinary Nurses
Vicky
Practice manager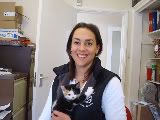 Debbie Lamsley VN
Debbie joined Sound Equine in October 2005 from an equine practice in Wales. She qualified as a veterinary nurse in 1996  in South Africa and worked in a busy equine hospital supervising anaesthetics and monitoring in-patients. Her main passion is skydiving, and competes in the National four way competition each year.
Reception/Admin Staff
Claire Lewis
Claire is our day to day reception manager and is known to most of our clients. She is very friendly and cares deeply about our patients. She organises the vets days and works hard to rearrange calls if an emergency throws the normal day out.
Katie